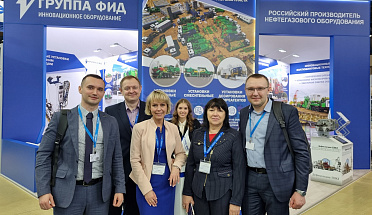 On April 18–21, the 21st international exhibition of equipment and technologies for the oil and gas complex – NEFTEGAZ-2022 – was held at the Central Exhibition Complex EXPOCENTRE at Krasnaya Presnya in Moscow. During the exhibition, the delegation of MZKT OJSC met with key players in the oil and gas industry. For the representatives of the enterprise, these were some busy days full of negotiations, interesting meetings with our traditional customers and potential new partners.

In addition to getting acquainted with the latest equipment and technologies, trends, and strategy for the development of the oil and gas economic sector, the area of interests of MZKT OJSC mostly included the issues related to the installation of technological equipment on the wheelbase of Minsk Wheel Tractor Plant.

Summing up the results after visiting the exhibition, we can say with confidence that while the chassis line of MZKT OJSC for the oil and gas industry has always been in demand, now the plant's proposals are more relevant than ever and in demand as never before.

For MZKT OJSC, being a manufacturer of chassis to be installed on various oil and gas equipment, i. e. mobile drilling rigs, coiled tubing equipment, compressor and cementing units, and nitrogen stations, such exhibitions are an excellent platform for arranging business negotiations and meetings, exchanging ideas and experience, discussing goals and solving issues of development in the oil and gas sector. Minsk Wheel Tractor Plant has a wide variety of chassis in its model range with 6x6 to 14x14 wheel arrangements that can be installed at various units involved in exploration, drilling, repair, and service work in the oil and gas industry. Our long-term interaction with the oil and gas sector of Russia and foreign markets allows MZKT OJSC to keep abreast of the industry needs and act while improving and customising our equipment in order to meet the customers' needs.