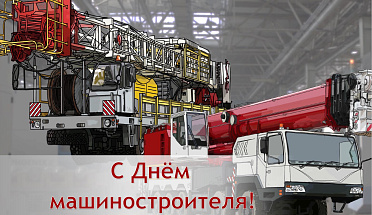 Dear friends and colleagues! Machine Builders Day is our common heritage and pride.
On this wonderful day, we should remember what an important matter we are involved in. The results of our labor are everywhere, and, without our joint work, the world would not be as perfect as it is now. After all, we are the ones who spin the gears of technical progress with our own hands! Machine Building gives a huge impulse to the development of industrial systems.
Thanks to the labor of workers and engineers in machine building industry, all the other industries are equipped and enforced. You are a sort of trampoline in a large industrial mechanism that launches the process of economic development and ensures the growth of technical potential while manufacturing competitive products.
Please accept our congratulations and sincere wishes for prosperity, materialization of your career and professional plans, ideas and dreams and easy movement forward - to new heights. May new experience, constructive solutions, unique developments and new amazing discoveries wait You in future! Let your work, that brings growth, stability and prosperity to our entire state, will always be useful, recognized and appreciated.