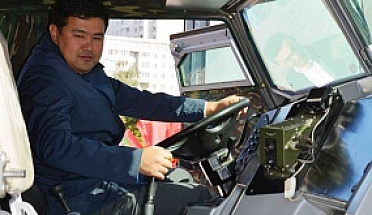 MWTP OJSC took part in the demonstration of the VOLAT motor vehicles within the festive events dedicated to the 955th anniversary of the Belarusian capital Minsk.
On September 8 and 9, an exhibition of achievements of the industrial sector was held at the site of the National Library of Belarus. The participants of this exhibition were leading state-owned enterprises and private manufacturing companies. These days, the International Economic Cooperation Forum was held in Minsk, and delegations from 19 countries had an opportunity to get acquainted with the production potential of the Belarusian capital. At the exhibition site, the audience saw the MZKT-490100-011 modern lightly armoured vehicle and learned more about it.
In addition to the MZKT-490100-011, MWTP OJSC presented a representative of the MZKT-600203 family of highly unified multi-purpose wheeled chassis to residents and guests of Minsk on the territory of Chizhovka Arena MCESC on September 10.