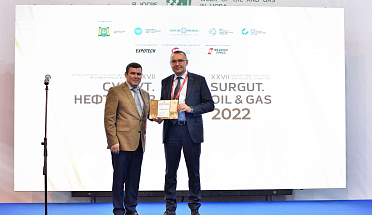 On September 26–28, MWTP OJSC took part in the 27th Specialised Technological Exhibition "Surgut. Oil and Gas – 2022" held on the site of the Energetic Sports and Fitness Complex.
A number of scaled models of our motor vehicles were presented at the stand of MWTP OJSC.
The exposition of MWTP OJSC was visited by high-ranking officials of the Khanty-Mansi Autonomous Region – Yugra and officials of the 27th International Specialised Technological Exhibition.
The representatives of MWTP OJSC have acquainted the participants and guests of the exhibition with the samples of the presented machinery. They took part in the General Procurement Session, where they were given the opportunity to establish direct contacts with representatives of oil and gas companies responsible for the procurement processes.
The presentation made it possible to acquaint the viewers and listeners with the technical solutions for the oil and gas industry from MWTP OJSC, which strengthened the recognition and image of the company in the market.